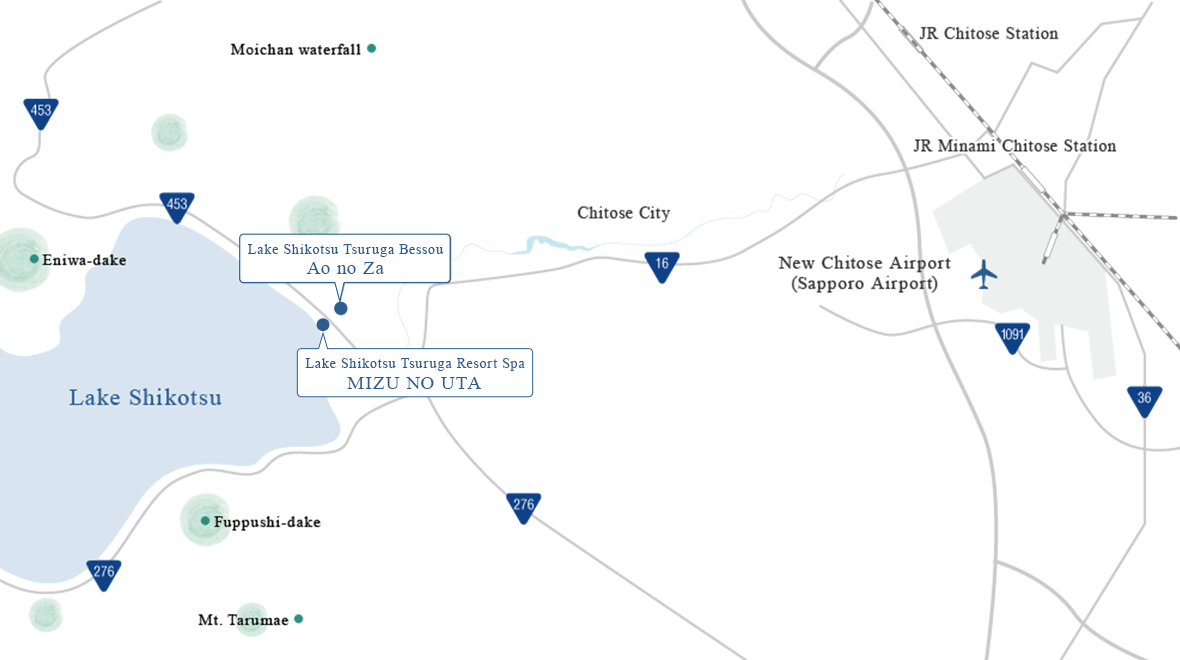 by Hotel Free Shuttle Bus

*Only Reservation GuestWe offer the FREE shuttle bus Chitose Liner ply between our hotel and New Chitose Airport, Chitose Station, Minami-Chitose Station, help our guests take the most convenient way to arrival at hotel by our sister's hotel "Mizu no Uta" same shuttle bus. Please note that pick-up service need a reservation 5 days in advance.

【ROUTE】 Chitose area - Ao no Za / Mizu no Uta

【ROUTE】 Chitose area - Ao no Za / Mizu no Uta

Chitose Station(JR千歳駅)
Minani Chitose Station(JR南千歳駅)
New Chitose Airport(新千歳空港-CTS)
Ao no Za

About 1 hour 15 minutes

【Free Shuttle Bus Schedule】

Departure from Chitose area
⇒ Arrival at Ao no Za

No.1

Chitose Station
(JR千歳駅)
Minani Chitose Station
(JR南千歳駅)
New Chitose Airport
(新千歳空港-CTS)
Hotel
11:05
11:20
11:35
12:15

No.2

New Chitose Airport
(新千歳空港-CTS)
Minani Chitose Station
(JR南千歳駅)
Chitose Station
(JR千歳駅)
Hotel
14:15
14:30
14:45
15:30

No.3

Chitose Station
(JR千歳駅)
New Chitose Airport
(新千歳空港-CTS)
Minani Chitose Station
(JR南千歳駅)
Hotel
16:25
16:45
17:00
17:50

Departure from Ao no Za
⇒ Arrival at Chitose area

No.1

Hotel
Chitose Station
(JR千歳駅)
Minani Chitose Station
(JR南千歳駅)
New Chitose Airport
(新千歳空港-CTS)
8:00
8:45
9:00
9:15

No.2

Hotel
Chitose Station
(JR千歳駅)
Minani Chitose Station
(JR南千歳駅)
New Chitose Airport
(新千歳空港-CTS)
10:20
11:05
11:20
11:35

No.3

Hotel
New Chitose Airport
(新千歳空港-CTS)
Minani Chitose Station
(JR南千歳駅)
Chitose Station
(JR千歳駅)
13:20
14:15
14:30
14:45

No.4

Hotel
Chitose Station
(JR千歳駅)
New Chitose Airport
(新千歳空港-CTS)
Minani Chitose Station
(JR南千歳駅)
15:45
16:25
16:45
17:00

Bus Stops

Chitose Station(JR千歳駅)

In front of West Exit outside, shuttle bus stop is near Chitose Station Plaza building.

Minani Chitose Station(JR南千歳駅)

After leaving the ticket gate of JR Minani Chitose Station, proceed to Chitose Outlet Mall Rera on the right and get off the stairs. There is a bus stop.

New Chitose Airport(新千歳空港-CTS)

Route①
from JR New Chitose Airport Station

Route②
from International Arrival Lobby

Route③
from Domestic Arrival Gate 1/2/3

*On the 1st floor, the dark gray zone of between 3 gate and 4 gate is not connected such as this picture.
Due to the Domestic Building's architectural style, from Domestic Arrival 1/2/3 Gate (ANA / AIR DO) CANNOT go to south side directly.
Guests must go to 2F Domestic Departures lobby firstly, then go down 1F Domestic Arrival 4/5 Gate (JAL / SKY / Jetstar).
* Please wait at the bus stop where at the outside of domestic terminal building is on the first floor.
Our bus will stop at an available space of the bus dedicated free parking area (No.1~10) at the next to the police station.
It is on the left hand side immediately after going out from the #11 entrance at the domestic terminal.

[To our guests]

Please make a reservation 5 days in advance before your check-in date.
Please note that the number of seats are limited and it will be handled on a first-come-first-served basis.
When have No Reservations, the shuttle bus will NOT be running without prior notice.
Basically, please take a shuttle bus operated Mizu no Uta and Ao no Za following timetable.
For guests staying in the Executive Suite Villa room, we provide the pick up service (reservation only) to and from New Chitose Airport, please call at hotel directly TEL +81 123 25 6006(09:00-19:00), not by email.
Please note that hotel may not be able to arrange pick up service following your request, we will try our best for you, thank you for your understanding.

by Car

Route by car

From New Chitose Airport

New Chitose Airport
Hokkaido Pref. Route 130 - Route 36 - Hokkaido Pref. Route 16 - Route 453
About 35 minutes
Ao no Za

From Sapporo

Sapporo
Route 12 - Hokkaido Expressway Sapporo Minami IC - Chitose IC - Route 16- Route 453
About 1 hour 10 minutes
Ao no Za

From Chitose

Chitose
Route 16 - Route 453
About 30 minutes
Ao no Za

From Tomakomai

Tomakomai
Route 276 - Route 453
About 30 minutes
Ao no Za

From Asahikawa

Asahikawa
Route 48 - Hokkaido Expressway Asahikawa Takasu IC - Chitose IC - Hokkaido Pref. Route 16 - Route 453
About 2 hour 25 minutes
Ao no Za

From Hakodate

Hakodate
Route 5 - Hokkaido Expressway Yakumo IC - Abuta-Toyako IC - Route 276 - Route 453 - Bifue Pass - Route 453
About 4 hour
Ao no Za

From Obihiro

Obihiro
Route 241 - Doto Expressway Otofuke-Obihiro IC - Tomamu IC - Hokkaido Pref. Route 136 - Route 274 - Hokkaido Expressway Yubari IC - Chitose Higashi IC - Hokkaido Pref. Route 16 - Route 453
About 3 hour 50 minutes
Ao no Za

From Kushiro

Kushiro
Route 38 - Route 392 - Route 274 - Doto Expressway Honbetsu IC - Tomamu IC - Hokkaido Pref. Route 136 - Route 274 - Hokkaido Expressway Yubari IC - Chitose Higashi IC - Hokkaido Pref. Route 16 - Route 453
About 6 hour 5 minutes
Ao no Za

From Lake Akan

Lake Akan
Route 248 - Route 241 - Doto Expressway Ashoro IC - Tomamu IC - Hokkaido Pref. Route 136 - Route 274 - Hokkaido Expressway Yubari IC - Chitose Higashi IC - Hokkaido Pref. Route 16 - Route 453
About 5 hour 25 minutes
Ao no Za

From Lake Saroma

Lake Saroma
Route 238 - Route 242 - Route 333 - Asahikawa-Monbetsu Expressway Maruseppu IC - Hokkaido Expressway Pippu IC - Chitose IC - Hokkaido Pref. Route 16 - Route 453
About 5 hour 5 minutes
Ao no Za

From Abashiri

Abashiri
Route 39 - Route 333 - Asahikawa-Monbetsu Expressway Maruseppu IC - Hokkaido Expressway Pippu IC - Chitose IC - Hokkaido Pref. Route 16 - Route 453
About 5 hour 50 minutes
Ao no Za

※ Times will vary depending on the route.

by JR

From Sapporo / Otaru / Asahikawa Station

From Obihiro / Kushiro / Hakodate Station

From Sapporo Station

Sapporo Station(JR札幌駅)
by Rapid Airport Express
About 30 minutes
Chitose Station(JR千歳駅)

by Car or Taxi About 30 minutes

by Public Bus About 45 minutes

by Hotel Free Shuttle Bus About from 45 - 85 minutes

Ao no Za

From Otaru Station

Otaru Station(JR小樽駅)
by Rapid Airport Express
About 1 hour 50 minutes
Chitose Station(JR千歳駅)

by Car or Taxi About 30 minutes

by Public Bus About 45 minutes

by Hotel Free Shuttle Bus About from 45 - 85 minutes

Ao no Za

From Asahikawa Station

Asahikawa Station(JR旭川駅)
by Limited Express Super Kamui
About 1 hour 55 minutes
Chitose Station(JR千歳駅)

by Car or Taxi About 30 minutes

by Public Bus About 45 minutes

by Hotel Free Shuttle Bus About from 45 - 85 minutes

Ao no Za

From Obihiro Station

Obihiro Station(JR帯広駅)
by Limited Express Super Ozora
About 1 hour 50 minutes
Minani Chitose Station(JR南千歳駅)

by Car or Taxi About 35 minutes

by Public Bus About 50 minutes

by Hotel Free Shuttle Bus About from 45 - 55 minutes

Ao no Za

From Kushiro Station

Kushiro Station(JR釧路駅)
by Limited Express Super Ozora
About 3 hour 25 minutes
Minani Chitose Station(JR南千歳駅)

by Car or Taxi About 35 minutes

by Public Bus About 50 minutes

by Hotel Free Shuttle Bus About from 45 - 55 minutes

Ao no Za

From Hakodate Station

Hakodate Station(JR函館駅)
by Limited Express Super Hokuto
About 2 hour 50 minutes
Minani Chitose Station(JR南千歳駅)

by Car or Taxi About 35 minutes

by Public Bus About 50 minutes

by Hotel Free Shuttle Bus About from 45 - 55 minutes

Ao no Za

※ Times will vary depending on the route.

by Public Bus

* Please note that public buses are operated by HOKKAIDO CHUO BUS.

by Airplane

From Haneda Airport / Tokyo International Airport (Tokyo) / Kansai International Airport (Osaka)

From Haneda / Tokyo International Airport (Tokyo)

Haneda Airport(羽田空港) / Tokyo International Airport(東京国際空港)
by Airplane
About 1 hour 30 minutes
New Chitose Airport(新千歳空港-CTS)

by Car or Taxi About 40 minutes

by Public Bus About 50 minutes

by Hotel Free Shuttle Bus About 50 minutes

Ao no Za

From Kansai International Airport (Osaka)

Kansai International Airport(関西空港)
by Airplane
About 2 hour
New Chitose Airport(新千歳空港-CTS)

by Car or Taxi About 40 minutes

by Public Bus About 50 minutes

by Hotel Free Shuttle Bus About 50 minutes

Ao no Za
Sightseeing
Lake Shikotsu Visitor Center

It displays the nature of Lake Shikotsu in a friendly and profoundly interesting way.

Mt. Tarumae

You can enjoy the magnificent scenery of Lake Shikotsu and the Pacific Ocean, and it is popular as a mountain where you can enjoy authentic mountain climbing close to you.

Lake Okotanpe

One of Hokkaido's three great secret lakes. It is a mysterious lake whose color changes with the season and time.
Shikotsuko Onsen Ryokan Association
Activities
Sightseeing Boat

| | |
| --- | --- |
| Date | From middle of Apr. to early of Nov. |

Soto cafe Canoe Tour

| | |
| --- | --- |
| Date | From spring to autumn |

Lake Shikotsu River Snorkeling

Clear Kayak

Lake Shikotsu Diving

| | |
| --- | --- |
| Date | From 24th Dec. to end of Mar. |

Lake Walking

| | |
| --- | --- |
| Date | From Jan. to 20th Mar. |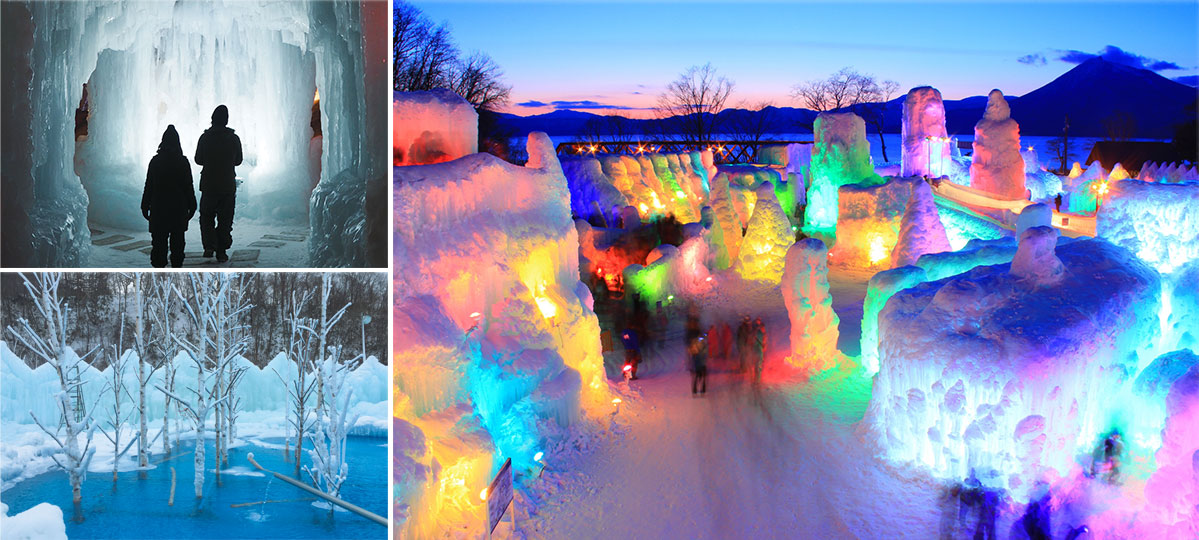 Chitose・Lake Shikotsu Snow Festival
氷濤まつり
It is an annual event of ice and lights at Lake Shikotsu, and it is held from the end of January to the middle of February. Dynamic ice world is made by spraying the clear water of lake; it takes two whole months to make. The place is beside in our sister's hotel Mizu no Uta, you can walk there.
It is entertaining, representative Hokkaido's winter festival as well as Snow Festival in Sapporo.
Shikotsuko Onsen, Chitose, Hokkaido 066-0281, Japan