bus reservation
Inquiry Form for Hotel Bus CHITOSE LINER reservation only
[ NOTICE ]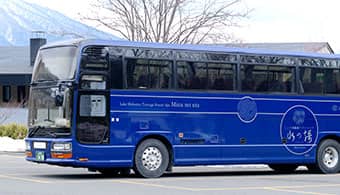 The number of seats are limited and it will be handled on a first come, first served basis. For taking the our hotel shuttle bus, be required make a reservation at least 5 days prior to your check-in date.
Please call at our hotel. TEL +81-123-25-6006 (09:00 - 19:00)
These our Hotel Buses are jointly operated by Lake Shikotsu Tsuruga Resort Spa Mizu no Uta and Lake Shikotsu Tsuruga Bessou Ao no Za of TSURUGA TRAVEL SERVICE Co ltd.
If there are no reservation for each shuttle bus, the bus will be suspended.
You are only able to get on the bus at your reserved departure location or get off at destination location.
The bus will leave on time. If you miss our hotel shuttle bus, please use other public transport by yourself.Bus will operate on time. Please be at the bus stop at least 10 minutes before the departure time.
Each arrival time may be delayed due to road conditions or weather conditions.
You cannot make bus reservation, unless you have the hotel reservation.
If you cancel your original staying reservation detail after completed your bus reservation, it will be cancelled automatically by our staff. Therefore, you have to contact us again to re-book for your shuttle bus seats.
If you would like to change or cancel the shuttle bus reservation, please contact us prior 72 hours before using date. Call at our hotel directly is better than send email.
All personal customer information will only be used to help process inquiries and strictly kept within our company.
Enter customer
information
Confirm input
Sending confirmed